The wild wetland of Văcărești is a symbol of nature's resilience. Without human interference, wildlife has reconquered this abandoned lake and transformed it into a green oasis in the middle of one of Europe's densest cities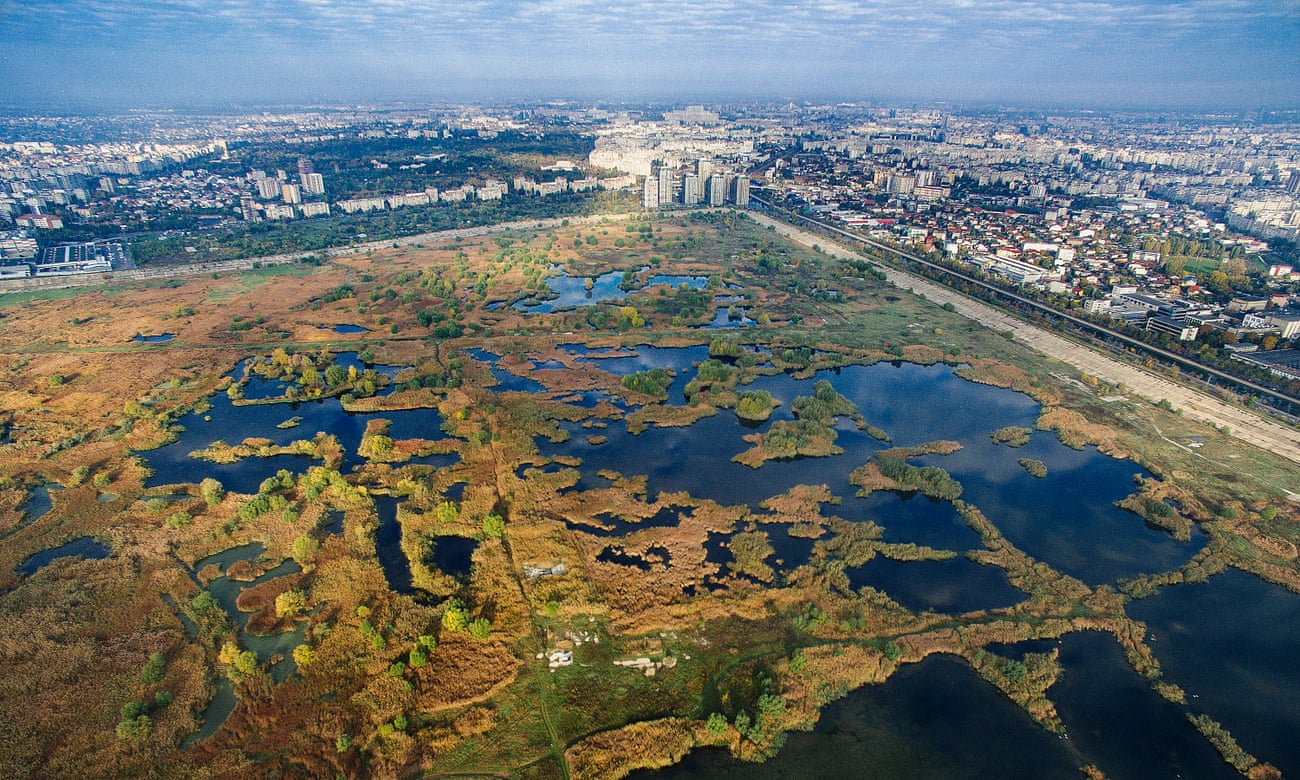 There are rarely ever more than a handful of people present when you visit Văcărești, Bucharest's wild wetland just a 30-minute stroll from the city centre. Almost no one dares go down into the park itself; the perimeter wall – a five-metre concrete embankment that isolates this unique green space from the surrounding city – remains the favourite and safest spot.
From an unfinished piece of urban water infrastructure abandoned in 1989, Văcărești has been reconquered by nature and wildlife without any human intervention, to become one of Romania's most diverse ecosystems. Last month, following a four-year campaign led by a small but determined group of environmental activists, the government finally granted it protected area status, officially making 183-hectare Văcărești one of the biggest urban nature parks in Europe.
The diversity of landscapes is fascinating. The northern edge is a meadow with wild grass, nut trees, poplars and elms, but venture deeper into the park, towards the three interconnected lakes at its heart, and the vegetation becomes denser and more characteristic of wetlands: various types of willow, Johnson grass and water lilies.
Along the way you will also come across some of the 100-odd species of bird that have been spotted in Văcărești – from wild ducks to herons. With luck, you might also see a turtle or fire-bellied toad – two protected species that have flourished in these untouched surroundings.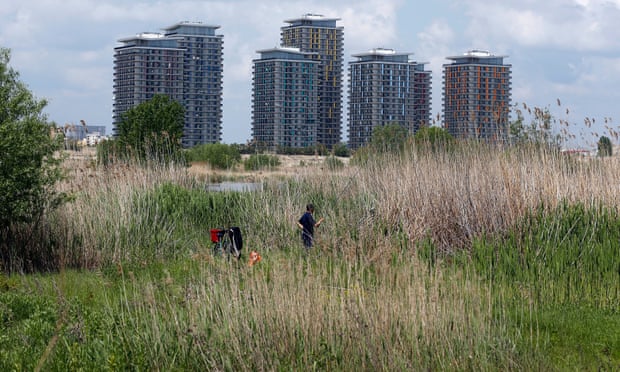 Văcărești was originally a neighbourhood of Bucharest, built under communist rule on land reclaimed from swamps to make room for several grand architectural projects, including new buildings for the Ministry of Justice and Supreme Court, and an artificial basin, Lake Văcărești – part of an ambitious hydrological infrastructure plan to connect Bucharest to the river Danube.
None of these projects would be completed. In 1989, the Romanian revolution removed President Nicolae Ceaușescu from power. He was executed, and his grand schemes abandoned. While the lake was at an advanced stage of completion, a major engineering defect made it almost useless. And that is how Văcărești remained: an empty lake, hidden behind high dykes, in the middle of one of Europe's densest cities.
On a stormy day 27 years later, Dan Bărbulescu and Cristian Lascu explain the genesis of their fight to turn Văcărești into a "protected nature park", as defined by the International Union for the Conservation of Nature. It all started in 2012, when Lascu – who was editor-in-chief of National Geographic Romania for 20 years – published an article headlined "The delta between the blocks".
Nature photographer Helmut Ignat had been spending a year photographing Văcărești's wildlife; his pictures showed that over the two decades since the infrastructure project had been abandoned, nature had developed within the low-lying land in a staggering way, creating a genuine ecosystem whose diversity came as a shock to many people.
There are several sites in Bucharest with a similar history: grand projects ordered by communist leader Ceaușescu that remained unfinished after the 1989 revolution, entangled in overwhelming red tape, thorny legal feuds and a lack of interest from investors. Yet while most of these are now simply ruins or barren land, Văcărești has regenerated itself in the most astonishing way.
In 2013, the Romanian Academy (the highest scientific authority in Romania) undertook a study of its fauna and flora, which confirmed the extent of this ecosystem: hundreds of species of plants and flowers, 96 species of birds, several mammals including weasels and otters – a European protected species – but also reptiles including turtles and snakes.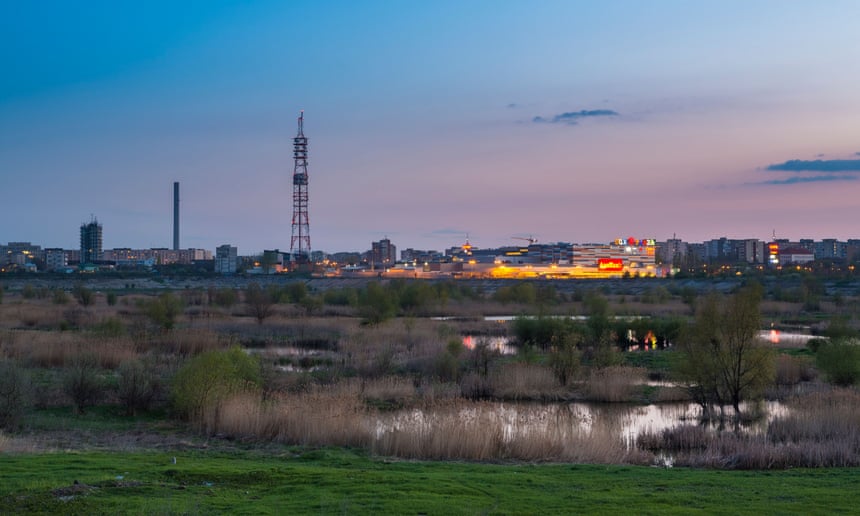 "We have no idea how otters arrived in Văcărești," says Bărbulescu, executive director of the Văcărești Nature Park Association, which led the fight to make Văcărești a protected area. "But it certainly shows how clear and good quality the water is."
As we climb up the concrete embankment that separates the polder from the built-up area surrounding it, Lascu tells me: "Văcărești is the perfect combination of luck and nature's resilience. The embankment around the lake has protected the area from the city's interference. And the layer of clay at the bottom of the lake means that it is connected to one of Bucharest's five main aquifers, providing fresh water that you can actually drink."
We pause at the top of the embankment which supports some sort of walled walkway. There are a few joggers and walkers around minding their own business. A barren concrete slope goes down to the bottom of the lake. To face this vast and luxuriant cistern is slightly frightening. It looks wild and vividly green, contrasting starkly with the surrounding city that is grey and mineral.
Imagine yourself looking down at an area larger than Regent's Park in London, but untamed. As we move to the bottom of the basin the atmosphere is eerie yet comforting at the same time: the embankment and the abundant vegetation create a buffer that stops the noise of the city from reaching us.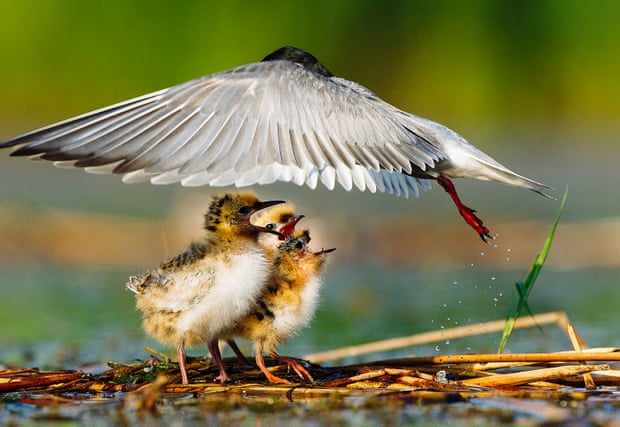 The Roma families that have settled here have even become "part of the ecosystem of the lake", says Lascu. It seems that the relationship between those living in informal housing and the nature activists has not always been ideal, but now Bărbulescu adds that Gica, head of one of the Roma families, has been key in helping the association tackle the issues of poachers, illegal logging and fishermen.
Protecting the area from abuse – people having BBQs, leaving debris and garbage, and the threat of thieves and poachers – is one of the main challenges for the association. At the western edge of the park, despite the many campaigns to clean the area, there's a lot of debris including a fridge, tyres, clothes, plastic bags and hundreds of broken decorated tiles. "As a protected area we hope that we will be able to hire Gica as Văcărești's first ranger," says Bărbulescu. Though, as we get ready for a boat ride on the pond, Lascu gives a reproachful glance to the future ranger when he casually throws his cigarette butt in the water.
Despite the campaign's success – a social media strategy documenting the diverse wildlife on a daily basis has contributed to their 60,000 "likes" on Facebook – there's still some way to go. One of the tasks ahead for the young park is to have the area ready to welcome the public, without damaging the ecosystem or losing what makes this place so extraordinary.
"The main challenge now is to create an organisation that will manage the park," says Bărbulescu. They hope to be that organisation, but they need to demonstrate that they have the financial ability to do so – there is no automatic funding available for newly created parks in Romania. "We still need support locally and internationally. I'd love to have Sir David Attenborough coming to visit Văcărești. I think I'll write him a letter."